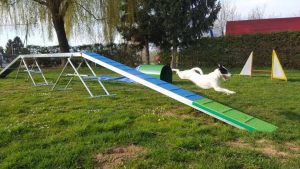 AGILITY Varaždin 2019
5. kolo Prvenstva Hrvatske, 7. Kvalifikacije za EO, 5. Kvalifikacije za JEO
5th leg of Croatian National Championship, 7th EO 2019 qualifications and 5th JEO 2019 qualifications
Lokacija / Location:
Kinološko društvo Varaždin 1181 > Trg Pavla Štoosa 39a, 42000 Varaždin
Sudac / Judge: Ivana Kirik (SLO)
————————————–
PRIJAVNICA (Entry Form)
Rok za prijave / Entry deadline: 12.04.2019.
DETALJI O NATJECANJU / COMPETITION DETAILS:
Početak prijava za A3 i ostale natjecatelje – 08:15 / Registration desk will be open from 8:15 AM for A3 and all other participants
Pregled staze / Course walk J3 – 08:45 sati / 08:45 AM
Početak natjecanja / Start of competition: 09:00 sati / 09 AM
Redoslijed staza / Running order:
J3, A3, A2, A1, A2, A1, A0 – dvije trke / A0 – two runs
Kotizacija / Entry fee:
Prvi pas / first dog – 100kn / 15€ po danu / per day
Drugi i svaki sljedeći pas istog vodiča / Second dog and all following dogs from the same handler – 70kn / 10€ po danu / per day
Kotizacija se plaća na natjecanju / Entry fee is payable at the competition.
Natjecati se mogu isključivo psi stariji od 18 mjeseci / Only dogs older than 18 months are eligible to compete.
————————————–
Razred "A0" / A0 class:
Kotizacija A0 (Entry fee A0 class): Prvi pas (first dog) 75kn (11 €).
Drugi i svaki slijedeći pas istog vodiča / second dog and all following dogs from the same handler – 50kn / 7€
Minimalna starost pasa je 16 mjeseci. / Minimum age of the dogs in A0 class is 16 months.
A0 staza sadrži samo hopove i tunele. Visina hopova iznosi 15cm za Small, 25cm za Medium i 45cm za Large. / A0 course contains only jumps. Height of the jumps is 15cm for Small, 25cm for Medium and 45cm for Large and tunnels.
————————————–
For more information please contact: tkanjuh@gmail.com